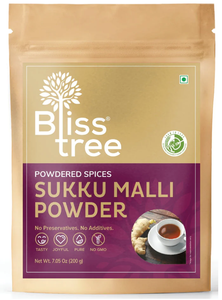 Sukku Malli Powder is a herbal decoction that has a plethora of health benefits. Sukku is dry ginger and Malli is coriander seeds. If you are looking to switch over from traditional tea or coffee, this beverage is indeed a healthy and tasty option.
Regional Names: Sukku Malli Powder (Coffee) is also known as Dry Ginger Coffee
Key Features: 
Treats cough, cold and indigestion

Comforting to sip on this to soothe a sore throat

Helps boost immunity
Ingredients: Dry Ginger, Coriander & Pepper
Allergen Advice: This product was processed in a facility that also processes wheat, milk, peanuts, sesame seeds and tree nuts.