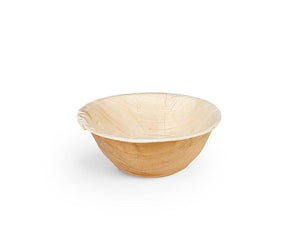 Palm/Areca Leaf Bowls are bio-degradable and saves the environment. They are lightweight and durable. The 4'' round bowl can be used to serve samples and desserts. This bowl can be used for professional and casual gatherings and also everyday use.
The leaf-based products are
Made from fallen Palm/Areca leaves.
No trees or natural vegetation are harmed.
Fallen Palm/Areca leaves are cleaned using water, pressed to shape differently using heat, and decomposes over a short period of time.
Naturally water-resistant; contains no wax coating/chemicals.
It can be used for any liquid food such as soup or gravy.
Microwave and refrigerator safe.
100% Natural and Eco-friendly.