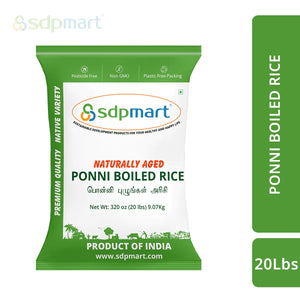 Premium Ponni Boiled Rice processed without any chemicals or polishing. SDP Mart's rice is harvested and comes straight from the farmers. Ponni Boiled Rice is steamed before milling and is partially boiled in the husk. Parboiling, hence, makes white rice nutritionally similar to brown rice. Parboiled rice might sound like it's precooked, but it's not. This is also good for making idly and dosa batter.

It is Gluten-free.
Highly Recommend
We have been consuming Sona Masoori Rice for a longtime and was not completely satisfied .. Gave this ponni boiled a try and now we liked it so much that we never went back to it.. Rice ALWAYS cooks evenly ..
I have been using store bought Idli rice for idlies since 16 years +. My idlies were good. No complaints about it. But I always felt there was something missing. Probably moms touch, essence of nativity. Then came Paarampariyaa boiled rice to the rescue. Substituted Idli rice to Paarampariyaa boiled rice and yeah I found my eureka moment. Can't thank enough and no looking back to store bought Idli rice!
Happy to find a quality and traditional rice after long time. Quantity comes more and Taste is really good.