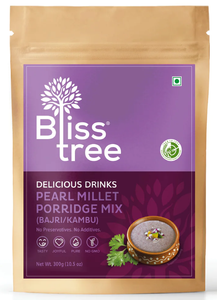 Bliss Tree's Bajra Millet Porridge is literally the easiest and the tastiest way to get all the essential nutrients the body needs. This excellent source of protein and fibre is sure to keep you full and energized for longer.
Key Features: 
Gluten-free and enriched with Vital Nutrients

Perfect Food for Babies

Supports healthy digestion
Ingredients: Pearl Millet, Ragi, Rice Flour, Onion, Ginger, Green Chilli, Pepper, Cumin, Coriander, Garlic, Curry Leaves, Asafoetida & Salt.